Give Us This Day
Many of us recite the Lord's Prayer in which we ask God to "give us this day our daily bread". Give into the ministry of Memorial Tabernacle by sending your tithe, offerings, and/or financial gifts today. Give securely online below. You may also mail your contribution to: Memorial Tabernacle Church, PO Box 3024, Oakland, CA 94609.
Bring ye all the tithes into the storehouse, that there may be meat in mine house, and prove me now herewith, saith the LORD of hosts, if I will not open you the windows of heaven, and pour you out a blessing, that there shall not be room enough to receive it.

Malachi 3:10
There Are Leaks In The Buildings
January 24, 2017 Your support is need to restore, repair, and reconstruct the properties God has blessed our ministry with. See the image below and please give today!


Faith. Foundation. Future.
We need your support as we advance the kingdom of God, feed the hungry, and care for the house of God. For over 90 years this ministry has been proven as a vital instrument of change in the North Oakland Community and its environs. Also we have blessed missions and ministries in other countries. I'm inviting you to be a change agent with us.

We are trusting and believing God to meet the need in His timing. He has kept us for the past 91 years, and He will continue to do so as long as we trust in Him. Our ask is for $600,000 to:
Roofing and painting $ 200,000
Electrical & plumbing $ 50,000
Payoff our church mortgage $ 60,000
Renovations for handicap & disability $ 30,000
Church Annex $ 260,000 (low est.)
Give today. Your gifts and contributions are tax deductible. Thank you for your support. -- Pastor Ulysses Stephen King, Jr.

Support via GoFundMe!
Please check out our church's GoFundMe site:

https://www.gofundme.com/MTCFoundationFund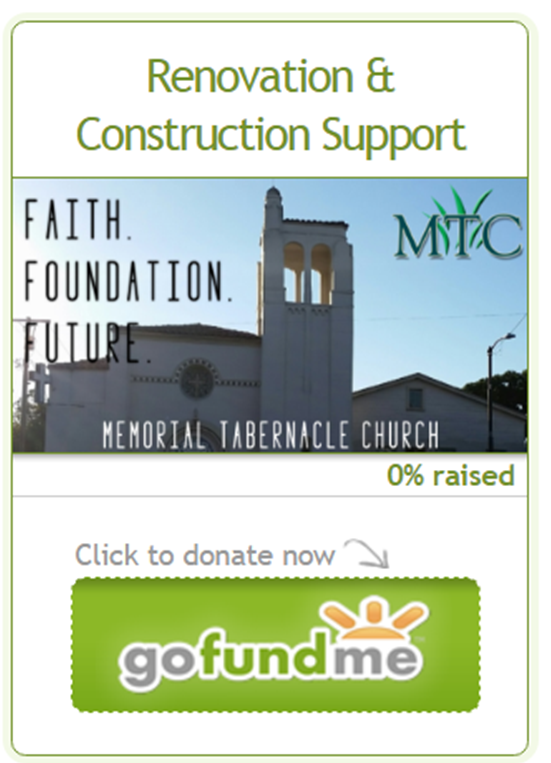 Support via PayPal!
Select contribution type 'Foundation Fund' above.