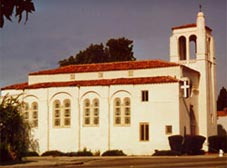 Church Address
5801 Racine Street
Corner of 58th St & Telegraph Ave
Oakland, CA 94609

Need directions? Click here.
Administrative Office Address
514 58th Street
Oakland, CA 94609
Tel: 510.652.4915
Fax: 510.858.7205
Pastor: 510.652.9719

For General Church Information:



Connect with Us!

Sign up for our Email Newsletter

Welcome to The Family!
Pastor Ulysses Stephen King, Jr., Mrs. Tiffany, and the Memorial Tabernacle Family welcome you to the family. We invite you to become a member of a family of believers God is using to "reach to teach, teach to change" one person and one block at a time. We pray you will choose to attend the reunion to receive the love God has given us to give to you specifically!


This Week's Newsletter
January 19, 2020 | "God's Presence Makes The Difference" (Exodus 33:12-19; Psalm 16:11; Acts 3:19-20); Encourager: Elder Mrs. Jeanette Wortz


Wake-up Church: Prayer Shut-in
It is time to pray, church! Time to lay at the altar of the Lord once again for all the requests desired! Open to all! Bring your prayer pillow to kneel on, journal to capture what the Lord is saying to you, and favorite song to listen to in your headphones as we meditate and wait on the Lord. Join Pastor King, Brother Smiley, and the MTC Family Friday, January 24, 7PM - 10PM. Doors open at 6:30PM.

Learn more on the Facebook event page at https://www.facebook.com/events/2704099982958418/.


neXt Generation Worship Encounter
Sunday Services

| | |
| --- | --- |
| Sunday School (1st Sunday only in July) | 9:15 AM |
| Glory Prayer & Praise | 10:00 AM |
| Morning Glory Worship Service | 10:30 AM |
| Servant's Prayer Hour | 6:30 PM |




Weekly Services

| | |
| --- | --- |
| Mondays:Saints-in-Prayer Hour: At home | 6:00 PM |
| Tuesdays:Conversational Bible Study | 7:00 PM |
| Wednesday (1st & 3rd):Music Ministry Rehearsal | 6:30 PM |